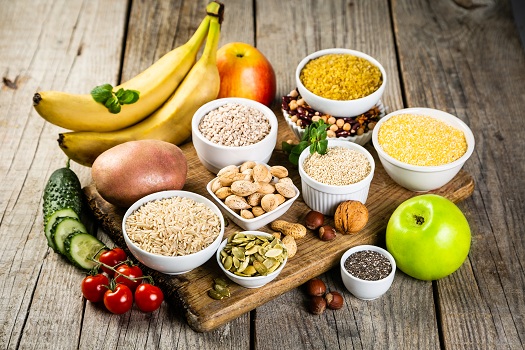 To maintain a healthy heart, seniors need cholesterol levels lower than 200 mg/dL. However, the modern diet is full of foods that can increase bad cholesterol levels. If your senior loved one has high cholesterol, his or her goal should be to eat foods that raise healthy HDL cholesterol levels while lowering harmful LDL levels. Encourage your loved one to follow these tips to keep his or her heart as healthy as possible.
Fiber
Eating fiber reduces cholesterol levels and boosts heart health. Fiber binds to the cholesterol in the bloodstream and takes it through the intestines to be eliminated. Seniors can boost their fiber levels by eating raspberries, oatmeal, apples with the skin left on, potatoes with skin, oranges, broccoli, oats, Brussels sprouts, beans, and whole grains.
Seniors with high levels of cholesterol are at risk for several diseases, and caring for them can be overwhelming for caregivers. Families who need help caring for senior loved ones can turn to Home Care Assistance, a leading provider of in-home care. Services available in our customizable care plans include meal prep, mental and social stimulation, assistance with personal hygiene tasks, and much more.
Processed Foods
Most of the meals prepared at fast-food restaurants contain unhealthy saturated fats, sugar, and sodium. Your loved one should also be wary of prepackaged snacks, frozen meals, processed cookies and candies, and premade condiments. All these items could be loaded with ingredients that cause weight gain and high cholesterol levels. For example, margarine is far worse for cholesterol than olive oil. If your loved one does eat processed foods, he or she should read the ingredients first and avoid anything with hydrogenated oils, saturated fats, and trans fats. 
A home caregiver can help your loved one plan and prepare healthy meals. In Carmichael, home care service providers can benefit aging adults in a variety of ways. From cooking nutritious meals to offering timely medication reminders, the dedicated caregivers at Home Care Assistance are available to help your elderly loved one 24 hours a day, 7 days a week.
Soy Products
The proteins found in soy are a great source of phytoestrogen and isoflavone compounds that keep the body from absorbing or producing cholesterol. Seniors can get soy protein from tofu, soy milk, and edamame pods, so it's easy to add this product into the diet. Soy proteins are also helpful because they can be used to replace animal protein that causes an increase in bad cholesterol. 
Fatty Animal Products
Animal products are high in bad cholesterol, so it's best to avoid meat with visible fat. This means cutting back on ribeye steaks and pork chops, and your loved one should never eat chunks of fat connected to meat. It's also a good idea to remove the skin from chicken and turkey. Dairy products can also be a surprising source of saturated fat, so even healthy options like yogurt can become problematic if your loved one has high cholesterol. Always look for fat-free or low-fat dairy products.
Nuts & Seeds
Nuts and seeds promote healthy cholesterol levels in many ways. They contain plant compounds called stanols and sterols that keep the small intestine from absorbing cholesterol. Many nuts and seeds also contain beneficial omega-3 fatty acids that increase HDL levels and lower LDL levels. The healthiest options for seniors are almonds, walnuts, and chia seeds, but flax seeds and hazelnuts are also beneficial.
Professional caregivers can help seniors maintain their health and wellbeing and stave off a number of health conditions. Families who find it difficult to care for their aging loved ones without assistance can benefit greatly from professional respite care. Carmichael, CA, family caregivers who need a break from their caregiving duties can turn to Home Care Assistance. Using our proprietary Balanced Care Method, our respite caregivers can encourage your loved one to eat well, exercise regularly, get plenty of mental and social stimulation, and focus on other lifestyle factors that promote longevity. Reach out to us at Home Care Assistance if you need compassionate professional home care for your loved one. Call one of our friendly Care Managers today at (916) 485-4663.