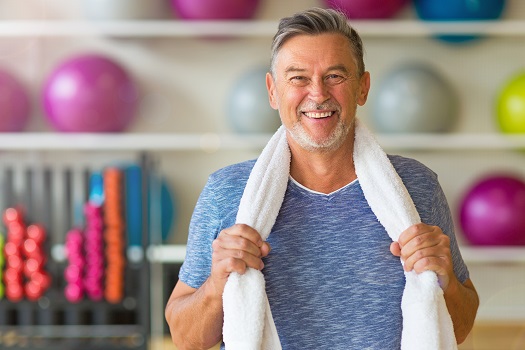 Being healthy is important to enjoy a high quality of life, and getting older does not necessarily mean a decrease in health. Older men can be more proactive about their health by considering the following tips. 

1. Schedule Regular Checkups

To maintain optimal health, older men should consider undergoing annual physicals. Your aging loved one should feel comfortable discussing his physical, emotional and mental health with the doctor. In the event your loved one experiences unusual symptoms, do not ignore the problem. Seek medical intervention to prevent the condition from worsening.
Seniors who want to remain healthy as they age can benefit in a variety of ways when they receive professional home care. Fair Oaks, CA, Home Care Assistance is here to help your loved one accomplish daily tasks, prevent illness, and focus on living a healthier and more fulfilling life. 

2. Maintain Muscle Mass
After the age of 30, adults begin losing muscle mass. Statistics indicate that men lose up to 30 percent of their muscle mass during their lifetimes. Once men reach the age of 60, they should make an effort to maintain their muscle mass. Researchers from the University of Alabama at Birmingham conducted a study to compare muscle mass between senior citizens and young adults. The 48-week trial required a group of volunteers to follow a specific exercise regimen each week. As the study progressed, half of the group was asked to stop exercising. By the end of the study, the scientists found that the younger participants maintained their muscle mass. Older men must be consistent in their workouts to prevent muscle loss. 

3. Exercise in Moderation
Older adults may not recover quickly from physical activity, and senior men are more likely to endure joint or muscle injuries. It's important for aging men to take short breaks when working out in the gym or engaging in sports. Trainers also suggest two days of rest between exercises to ensure full recovery. If your loved one experiences excessive pain after exercise, he should decrease the intensity of the activity until his body is better able to endure. 
Aging adults who need help exercising should consider professional in-home care. Fair Oaks senior care professionals can be a wonderful boon to seniors. Whether they require around-the-clock supervision or just need assistance with exercise and household tasks a few days a week, seniors can enjoy a higher quality of life with the help of trusted in-home caregivers.

4. Increase Protein Intake

The Academy of Nutrition and Dietetics suggests older men should exceed their recommended daily allowance of protein. Additional servings or larger portions of lean meat, poultry, and fish are needed for the body to continue functioning properly. Other protein options include beans, eggs, nuts, and seeds. Older adults often lack sufficient levels of vitamin D, which is vital for bone and tissue health. Getting outdoors in the sun more often is one option seniors should consider. Older men might also consider consuming fortified dairy products or taking over-the-counter supplements. 

5. Protect the Skin
As adults age, the skin becomes thin and dry. Skin is more susceptible to damage when exposed to the UV rays of the sun. In addition to causing fine lines, wrinkles, and a leathery appearance, unprotected skin is more likely to develop cancer. Older men might consider moisturizing their skin daily and using an appropriate sunscreen when outdoors. Drinking up to eight glasses of water daily also boosts skin tone and hydration levels.
Living independently is important for seniors who want to maintain a high quality of life. For some, this simply means receiving help with tasks that have become more challenging to manage over time. Even when families have the best intentions, they may not have the time to provide the care their elderly loved ones need and deserve. If your loved one needs help for a few hours a day or a few days a week, reach out to Home Care Assistance, a trusted provider of respite care Fair Oaks seniors can depend on. To schedule a free in-home consultation, give us a call at (916) 485-4663 today.