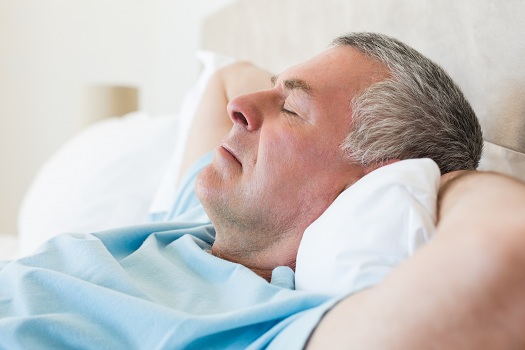 As senior men age, their health patterns change, and they have an increased risk of various conditions, such as insomnia. Seniors must develop good sleeping strategies to get adequate rest at night. Continue reading to learn more about good sleeping habits for 80-year-old-men and the benefits good sleep hygiene provides in the senior years. 
How Much Rest Is Enough?
Most men over the age of 80 need between seven and eight hours of sleep each night. Good sleeping habits can reduce stress, lower the risk of dementia, and keep your senior loved one in good mental shape. If your loved one fails to get seven or eight hours of rest each night, reexamine his daily activities and see what you can change. Keeping your loved one active during the day could increase sleepiness at night and lower the odds of insomnia. 
If your loved one is living with an illness or chronic medical condition, it may be especially difficult for him to get the right amount of sleep. Living with serious health conditions can make it challenging for seniors to age in place. However, they can maintain a higher quality of life with the help of professional live-in care. Fair Oaks seniors can benefit from assistance with meal prep, bathing, transportation to the doctor's office, medication reminders, and much more.
Are Naps a Good Idea?
Resting during the day can boost mental alertness and performance. However, long naps could interfere with nighttime sleep and make it difficult to stay on schedule. Therefore, your loved one shouldn't nap for more than 20 minutes each afternoon. Long naps and oversleeping could lead to severe consequences, such as a stroke. 
What Can Help Aging Men Sleep Well?
For good sleep quality, your loved one should develop a consistent bedtime routine that includes a wind-down period. During this time, he should take a warm bath, turn off computers and tablets, and relax. Your loved one can listen to soothing music if it keeps him in a good mood and calms his nerves. 
Your parent should also avoid heavy liquids and snacks an hour or two before going to sleep to limit the number of times he gets up during the night to use the bathroom. If your loved one does have a light snack or beverage, it shouldn't contain caffeine, which could give him an energy boost and make it difficult to fall asleep. 
If your loved one gets up often during the night, he may benefit from having a caregiver close by to ensure his safety. One of the most challenging tasks of helping an elderly relative age in place safely and comfortably is researching agencies that provide elder care. Turn to Home Care Assistance for reliable, high-quality in-home care for aging adults. We offer 24-hour live-in care for seniors who require extensive assistance, and we also offer respite care for family caregivers who need a break from their caregiving duties.
When Should an Older Man See a Doctor?
Sometimes older adults cannot sleep, even with suitable care plans and good bedtime routines. There could be health conditions and environmental factors that prevent them from getting at least seven or eight hours of sleep each night. If your loved one continues to toss and turn, take him to the doctor. His primary care physician can determine if there's an underlying reason for the restlessness and develop a new treatment plan. In some cases, older men need to take medication to sleep through the night. Never give your loved one over-the-counter sleeping pills without consulting his doctor first. 
An in-home caregiver can help your loved one follow a healthy sleep schedule. If you're the primary caregiver for a senior family member and are looking for professional in-home care, Fair Oaks Home Care Assistance should be your top choice. Our dedicated and compassionate caregivers are committed to helping older adults manage their health and enjoy a higher quality of life in the golden years. For compassionate, reliable in-home care, trust the experienced professionals from Home Care Assistance. Reach out to one of our dedicated Care Managers today at (916) 485-4663 to learn about the high quality of our in-home care services.