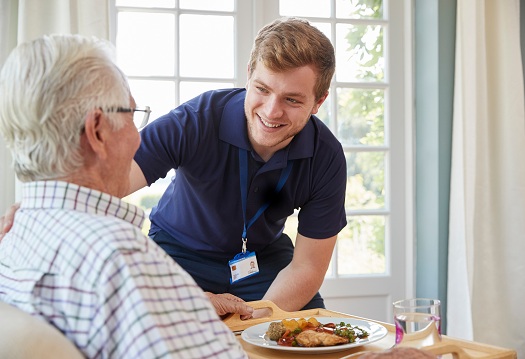 In a recent AARP survey, nearly 80 percent of Americans 50 and older expressed a desire to remain in their current residences. Other surveys suggest this preference is even higher among elderly people. If your older loved one hopes to age in place, it's a goal that may be achievable with the right types of support. Here are some recommendations to consider if you're looking to help your loved one age in place more easily.
Meal Delivery Services
Healthy eating is important for seniors because of age-related changes in metabolism and nutritional needs, but physical limitations sometimes make it difficult to prepare proper meals on a regular basis. If this is an issue for your loved one, look for meal delivery services in the area. They often provide either fully prepared meals or ones that can be easily heated up.
Living independently is important for seniors who want to maintain a high quality of life. For some, this simply means receiving help with tasks that have become more challenging to manage over time. Even when families have the best intentions, they may not have the time to provide the care their elderly loved ones need and deserve. If your loved one needs help for a few hours a day or a few days a week, reach out to Home Care Assistance, a trusted provider of respite care Carmichael seniors can depend on.
Home Medication Delivery
Some pharmacies will deliver medication directly to a senior's door. It's an option worth considering if your loved one takes medications that need to be regularly refilled or he or she has serious or chronic health issues, such as diabetes, that normally require multiple trips to the pharmacy.
Basic Home Preparations
This type of support involves talking with your loved one to see what kind of home preparations or adjustments he or she may need to safely age in place. Depending on your loved one's needs and concerns, this may involve:
Switching to a walk-in bathtub
Installing a stair lift
Adding more lights in darker areas to reduce fall risks
Personal Emergency Response Systems (PERSs)
One out of every four Americans 65 and older falls each year, according to the National Council on Aging (NCOA). Falling is just one of several potential causes of serious injuries that could affect your loved one while he or she is living at home. One way to increase your loved one's safety is with a personal emergency response system (PERS). Such systems work with the use of tracking and remote assistance technology that's activated with a bracelet or other portable device. If help is requested, emergency service personnel are sent to your loved one's home. Some systems even send help automatically if a fall is detected.
A home caregiver can help your loved one live at home in safety and comfort. Many older adults are choosing to age in place, and some need a helping hand to continue living at home safely and comfortably. Luckily, there is professional at-home care seniors can trust and rely on.
Encouragement to Remain Socially Engaged
Even if your loved one is perfectly capable of living independently with the right type of assistance, the need for regular companionship still exists, especially if he or she lost a spouse or close friend fairly recently. Encourage social engagement by:
Planning family gatherings and events that involve your loved one
Suggesting taking up a hobby that involves interacting with other people
Finding out what senior-specific groups, classes, and organizations are in your loved one's area that might interest him or her
In-Home Care
Another way to give your loved one access to a broad range of resources is to explore in-home care options. Home care agencies are often highly flexible in the forms of assistance they provide. For instance, in-home care might involve:
Transportation to medical appointments and errands
Companionship when family caregivers aren't available
Help with household tasks, such as cleaning, doing laundry, and cooking
Seniors can face a variety of challenges as they age, many of which can be mitigated with the help of professional in-home caregivers who provide high-quality senior home care. Carmichael families trust Home Care Assistance to help their elderly loved ones age in place safely and comfortably. To learn more about our premier in-home care plans, call us at (916) 485-4663 today.